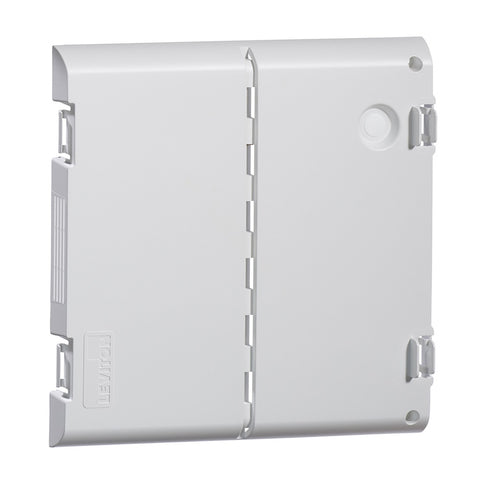 14" Wireless Structured Media Center Vented Hinged Door Only, 49605-14S
SKU:
Maximize the signal range and reliability of a wireless home network by housing its structured wiring components in Leviton's line for Wireless Structured Media Centers, offered in (14" x 13.7"), (28" x 13.7"), and (42" x 13.7") sizes. Unlike standard metal enclosures that inhibit signal range, this ABS polymer vented door offers "RF transparency" to minimize interference. The Vented Door (49605-14S) is a vented, 180-degree hinged door that facilitates cooling of enclosed equipment. The door installs tool-free onto Leviton 14" Wireless Structured media Centers, with innovative ratcheting hinges that can be adjusted to accommodate differing drywall sizes, and imperfections. The door may be installed left, or right hand swinging. With the additional of a door lock kit (5L000-L0K), the enclosure can be securely locked. Combine with a Leviton Wireless Structured Media Center Trim Ring, (49605-xxT) to retrofit an existing Leviton Metal enclosure into a Wireless "RF Transparent" Structured Media Center. FEATURES: Flame-retardant ABS polymer minimizes interference. Enhanced Tri-Plane vented door assists in airflow for cooling active gear. Compatible with all Leviton Structured Media components. CONTENTS: Wireless (RF Transparent) Structured Media Center Vented Hinged Door.
Plastic, Wi-Fi-transparent enclosure for better wireless signal reception and greater signal coverage area.
Tool-free door install with ratcheting hinge/latch design that easily accommodates different drywall depths, and imperfections.
Enhanced Tri-Plane venting on door for cooling active electronics
Vented door opens a full 180 degrees, provides an additional 1.25" of depth, and can be positioned as left or right open to provide flexibility in tight spaces.
Retrofit a Leviton metal enclosure with a trim ring AND wireless vented door, to allow Wi-Fi signals to pass through
For California residents, click
here
for Proposition 65 Warning.
---