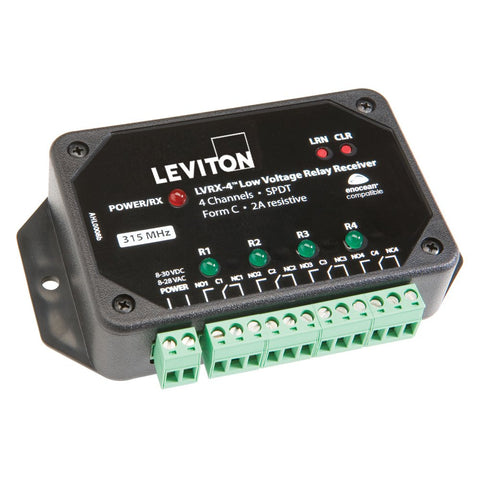 4 Channel Relay Receiver, Black, WSPAS-LV
SKU:
Wireless self-powered technology means no new wiring is required. Leviton LevNet RF Wireless Self-Powered Solutions are easy to install and maintenance-free, saving ongoing labor and material costs while saving energy. EnOcean technology allows energy harvesting LevNet RF Transmitters to operate indefinitely without the use of batteries. The motion of a switch actuation, light on a solar cell, or temperature differentials in the environment provide power to LevNet RF Transmitters, allowing zero maintenance wireless devices. The LevNet RF line includes multiple products that operate in the uncrowded 315MHz band offering greater transmission range (50-150 feet) than other wireless technologies and minimal competitive traffic. The Low Voltage Relay Receiver controls up to four (or eight) devices or groups of devices and connects LevNet RF Switches and Sensors to new or existing control systems. The Low Voltage Relay Receiver responds to up to 80 different Transmitters and provides four or eight output channels (dry contact or 8-30V for relay and contactor applications). The outputs can be programmed as either momentary or maintained contacts. Easy-to-use: Run zero switch-leg or traveler wires Reliable range: Error checking ensures Receiver only responds to appropriate Transmitters on all packet transfers Simple wireless controls: Architectural lighting - load shedding - industrial equipment control - automation - utility lighting - and more Control up to four separate devices or groups of devices; responds to as much as 80 Transmitters; dry contact output channels for relay/contactor applications; outputs can be programmed as either momentary or maintained contacts
For California residents, click
here
for Proposition 65 Warning.
---
We Also Recommend
---