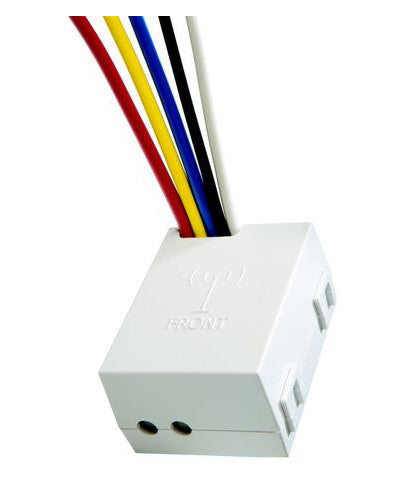 5-Wire Relay Receiver, 277V, White, WSP12-020
SKU:
Wireless self-powered technology means no new wiring is required. Leviton LevNet RF Wireless Self-Powered Solutions are easy to install and maintenance-free, saving ongoing labor and material costs while saving energy. EnOcean technology allows energy harvesting LevNet RF Transmitters to operate indefinitely without the use of batteries. The motion of a switch actuation, light on a solar cell, or temperature differentials in the environment provide power to LevNet RF Transmitters, allowing zero maintenance. The LevNet RF line includes multiple products that operate in the uncrowded 315MHz band offering greater transmission range (50-150 feet) than other wireless technologies and minimal competitive traffic. The 5-Wire Relay Receiver is used to control larger lighting loads or groups and motor loads such as fans, pumps, and gates. The Receiver includes isolated contacts that can switch power from a different circuit. Simply install the Receiver at the switch location and install as many as 30 Wireless Transmitters anywhere within range. The 5-Wire Relay Receiver is also capable of switching motor loads. LevNet RF single channel relay Receivers allow lights and fans to be controlled by LevNet RF Switches and Sensors. The line-voltage relays help simplify advanced wireless lighting control. 5-Wire Relay Receiver, 277VAC, 3200W. Wireless receivers and transmitters sold separately.Easy-to-use: Programs in seconds; run zero switch-leg or traveler wiresReliable range: Each unit stores up to 30 Transmitters IDs; error checking ensures Receiver only responds to appropriate Transmitters on all packet transfersSave energy: Connect the Receiver to a LevNet RF Sensor or program all lights to respond to a single master switch Control the way you want it: Control the 3-Wire Relay Receiver with a variety of devices - Wireless Self-Powered switches, Sensors, and more
For California residents, click
here
for Proposition 65 Warning.
---
We Also Recommend
---