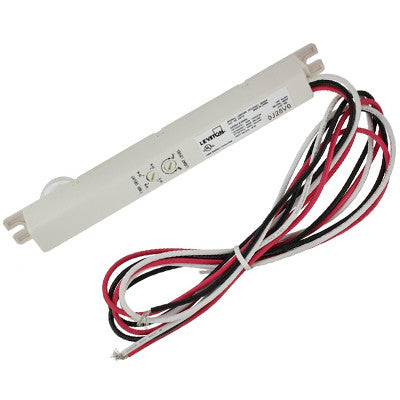 Fixture Mount Integral Luminaire Occupancy Sensor, 120-277V, OSF10-I0W
SKU:
Leviton's OSF10, Integral Occupancy Sensor, is designed to be mounted directly into a luminaire.
The OSF10 offers a sensor and relay in one device with an integrated ambient Hold-OFF adjustable photocell for daylighting. The wiring and housing of the sensor is installed adjacent to the ballast and hidden from view behind the reflector cover. Only the PIR detector dome lens and locking ring are visible on the exterior of the fixture.The OSF10's self-contained occupancy sensing technology offers energy savings in linear and task lighting applications. Long 38" leads make the OSF10 easy to install. With no additional wiring needed, labor, time and material costs are reduced. Once installed, only the PIR detector and ring are visible, making it aesthetically pleasing and reducing the number of devices visible in small spaces. Fixture Mount Integral Luminaire Occupancy Sensor, 120-277VThe OSF10 utilizes passive infrared (PIR) technology with Auto-ON/Auto-OFF operation and an adjustable Time Delay to detect motion within its field of view. A small semiconductor heat detector resides behind a multi-zone optical lens, making the sensor sensitive to the heat emitted by occupants. This Fresnel lens establishes dozens of zones of detection. In order to initially trigger the sensor, the source of heat must move from one zone of detection to another. The OSF10 is most effective in sensing motion across its field-of-view.Once the device senses motion, the sensor will automatically turn the lights ON. When motion is no longer detected, the sensor will conclude that the space is unoccupied. This will initiate the Delay Timer. If the delay timer expires and no motion is detected, the lights will turn OFF. If motion is detected, the delay timer will stop and the lights will remain ON. The integrated photocell can also be adjusted to detect the ambient light level and prevent the fixture from turning ON.
For California residents, click
here
for Proposition 65 Warning.
---
We Also Recommend
---