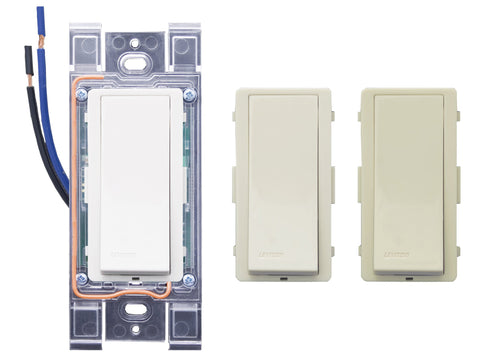 LevNet RF Non-Neutral, Decora Advanced RF Wall Switch Receiver, WSS10-GUZ
SKU:
Convenient switch and occupancy sensor combo in sleek Decora brand style unit. Advanced passive infrared technology provides highly accurate monitoring in a variety of commercial applications. The OSSMD and OSSMT Multi-Tech unit combines passive infrared and ultrasonic technologies to provide maximum sensitivity with immunity to false triggering. LevNet RF, Decora Advanced RF Wall Switch Receiver, Non-Neutral, Enabled by EnOcean. Decora is a registered trademark of Leviton Mfg. Co., Inc.OSSMD ideal for bi-level offices, partitioned areas and restrooms or areas where minor motion is likely to occurPhotocell with ambient light override prevents lights from turning on when there is ample natural lightManual override turns lights on at any time regardless of override settingManual delayed-off-time settings: (10, 20, and 30 minutes) compensates for real-time occupancy patterns, preventing unnecessary ON/OFF switching - with 30-second test modeSingle-pole and 3-way wiring
For California residents, click
here
for Proposition 65 Warning.
---
We Also Recommend
---