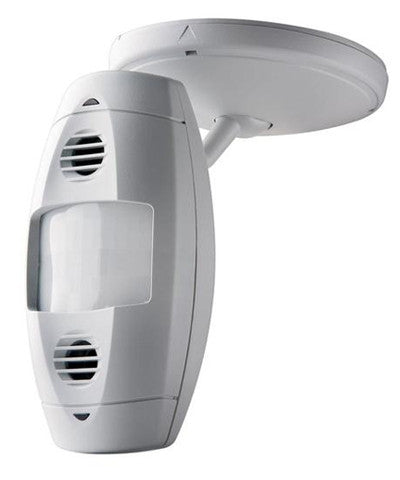 Multi-Technology, 110 Degree, 1200 sq. ft. Coverage, Self-Adjusting, Wall Mount Occupancy Sensor, White, OSW12-M0W
SKU:
The OSW12-M Occupancy Sensor uses ultrasonic sensing for maximum motion sensitivity and infrared sensing for highest lights-off reliability. The sensor continually analyzes and adjusts to changing conditions. The OSW12-M Occupancy Sensor uses the latest microprocessor-based technology which permits the detector to continually adjust and optimize its performance. The detector requires a 24 volt OSPxx Series power pack. By combining ultrasonic and infrared technology, the OSW12-M Occupancy Sensor provides excellent small motion sensitivity (US) and error immunity (IR). The mounting base, provided with the sensor, allows quick and easy mounting in corners, on wall or on ceilings. With ultrasonic and infrared sensing, this top-of-the-line sensor provides the highest-degree of immunity to false tripping. Auto-adapting circuitry fine-tunes delay settings for "install and forget" simplicity. Multi-technology, 110-degree, 1200 sq. ft. coverage, self-adjusting, wall mount occupancy sensor, commercial grade - white. Multi-Technology: By using both infrared and ultrasonic signals - the sensor minimizes false reading for high reliability Timer Settings: Automatic and Manual - 30s to 30 min. Test mode - 6 sec The versatile OSW12-M Occupancy Sensor can be mounted on the wall to provide full room coverage when low-hanging lights or other obstacles are present Self-Adjusting and Self-Calibrating: Internal microprocessor continually analyzes - evaluates and adjusts the infrared sensitivity - Passive Infrared Technology (PIR) Ambient Light Recognition: A photocell prevents lights from turning on when the room is adequately lit by natural light - both "occupied" and low-light-level and occupied" lights-on control wires are supplied
For California residents, click
here
for Proposition 65 Warning.
---
We Also Recommend
---