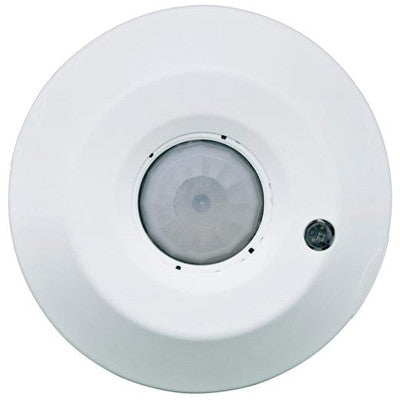 ODC Series 1500 Sq. Ft. Passive Infrared Ceiling-Mount Occupancy Sensor, 120-277-Volt, White, ODC15-IDW
SKU:
The Leviton ODC Series combines line voltage occupancy sensors and photocells into a self-contained unit. The integrated design alleviates the need for separate power pack and occupancy sensor wiring making it a low-cost, efficient energy solution for new construction and retrofits. For true Daylight Harvesting applications, integrated photocells provide consistent Daylight Design Levels by actively switching the connected load(s) ON and OFF in response to available natural light to maximize energy savings. Vacancy timers continually analyze and adjust to changing conditions using the latest microprocessor-based technology to optimize performance. Auto ON/ Auto OFF automatically turns lights ON and keeps them ON when occupancy is detected and automatically turns lights OFF when the space is vacant or unoccupied. Wire terminals allow for simple connection to a line-voltage circuit and are ideal for existing buildings with limited access to wiring and new construction.
Auto-Adapting: Time delay and sensitivity are continually adjusted to occupancy pattern of use
Configurable for Manual ON/Auto OFF or Auto ON/Auto OFF
False Detection Timer: (M/T) The PIR scans for movement and shuts lights off after 31 minutes preventing false triggers from HVAC systems
Industry-exclusive self-configuring local manual switch input: Momentary or maintained switches are supported
Adjustable Time Delay: 30s, 5min, 10min, 20min, 30min
For California residents, click
here
for Proposition 65 Warning.
---
We Also Recommend
---