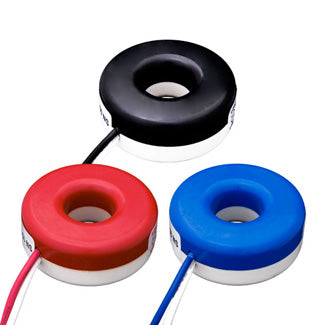 Sub-Metering Current Transformer Kit, 100:0.1A, 0.72", Blue, Red, Black, Electric Meter: Yes, Title 24 Compliant, ASHRAE 90.1 Compliant
SKU:
Leviton Current Transformers (CTs) support our full line of VerifEye™ revenue-grade meters and help meet all measurement and verification-based opportunities—including smart metering and LEED rating achievement. Designed as part of a simple and effective process for accurately capturing measurements of power consumption, CTs are easy to specify and install for new construction and retrofits.
The better the equipment, the better the measurement. Leviton meters utilize highly accurate current transformers for revenue-grade performance certified to ANSI standards. Competing products use current sensors that do not provide the same level of performance. CTs come as solid core standard for high-quality, long-term accuracy and reliability. Solid core CTs deliver +/-0.3% accuracy. Split core and Rogowki Coil CTs deliver +/-1.0% accuracy. For added safety, all Leviton current transformers come with built-in voltage suppression devices that prevent hazardous voltages from developing on CT secondaries should they become disconnected from a meter with load current present. Leviton CTs are UL and cUL listed devices.
SOLID CORE
Leviton solid core CTs are cost effective and less susceptible to damage during installation. Solid core CTs slip over power lines to measure the electrical current flowing through the line. The CT "secondary" wires connect to the meter facilitating power and energy calculations. They are compact and cost effective. Solid core CTs are accurate (0.3% maximum error). For installation, power must be de-energized and the circuit opened in order to slip the CT over the power line.
For California residents, click
here
for Proposition 65 Warning.
---