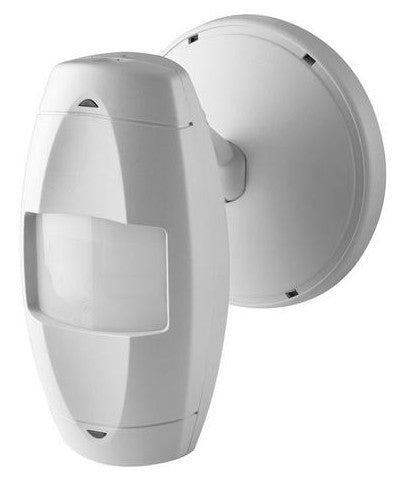 Wall Mount Occupancy Sensor, PIR Wide View, 110 Degree, 2500 sq. ft. Coverage, Self-Adjusting, White, OSWWV-I0W
SKU:
The OSWWV-IOW is a low-voltage infrared occupancy sensor that works with the OSPxx series power pack to automatically control lighting. By sensing moving infrared heat sources (people, forklifts, or other heat-emitting objects), the sensor automatically turns the lights on during occupancy, maintains lights-on and, after a time delay, turns the lights off when the space is vacated. The sensor uses a wide view (110-degrees) lens which detects large body motions over 50 ft. Away. Smaller motions such as hand movement can be detected up to 34 feet. An internal photocell allows the user to set the daylight override level. The mounting base, provided with the sensor, allows quick and easy mounting in corners, on walls or on ceilings using the twist-and-lock feature. It mounts quickly to a wall or the ceiling using a supplied bracket. The sensor features excellent range and sensitivity to motion. Self-adjusting, circuitry makes the sensor install amp; forget. Self-Adjusting and Self-Calibrating: Internal microprocessor continually analyzes - evaluates and adjusts the infrared sensitivity - Passive Infrared Technology (PIR) High Motion Sensitivity: The large lens area and multi-element lens design give excellent range and sensitivity - additionally the infrared sensing element is immune to air currents or fans. The versatile OSWWV-IOW Occupancy Sensor can be mounted on the wall to provide full room coverage when low-hanging lights or other obstacles are present Self Adjusting Timer: Timer is factory set at 10 minutes but user can easily select 30 sec - 30min using internal controls. Sensor may increase timer automatically through self-adapting features to meet room or occupancy patterns Ambient Light Recognition: A photocell prevents lights from turning on when the room is adequately lit by natural light - both occupied and low-light-level and occupied lights-on control wires are supplied
For California residents, click
here
for Proposition 65 Warning.
---
We Also Recommend
---